Our focus is back on making the darker nights brighter! Spending time with loved ones during the festive and fall season can still be enjoyed outside on your deck! Incorporating soft glow, white glistens and red berry effect lighting can make outside spaces feel warm, fuzzy and festive! 
From a design standpoint, you should devote the same amount of time to lighting decking ideas as you would to interior lighting in your house. If you have a decking area, utilize it for entertaining, dining, and resting just as you would any other room.
Your deck might be placed up against the house, halfway up the lawn, or at the end in a private space, depending on your choice of garden ideas. There is a wonderful technique to light it precisely wherever it is located.
Deck lighting installation ideas:
If your property doesn't have any decking and you want to create one from scratch, now is the greatest time to develop innovative deck lighting ideas. Consider where you want some lighting and the activities you will be doing in certain locations before starting the major construction. Perhaps the steps in your new decking will benefit from some gentle lighting. Or perhaps you'll have a designated space for grilling, in which case a built-in pillar lamp might be useful.
Below are some of the best decorative ideas for lighting installation.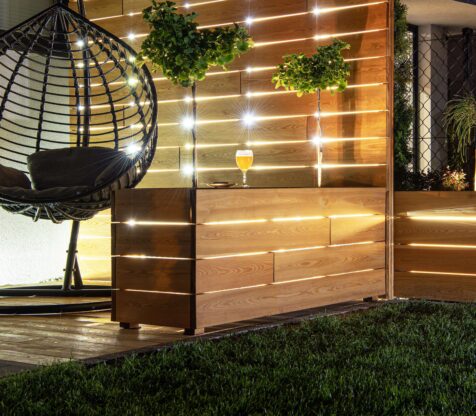 Create a gently diffused glow for a refined appearance:
Using modest lighting, you can create a show-stopping deck with an inviting atmosphere that is the ideal setting for entertaining in the evening garden. When up-lit, deck planting ideas take on architectural characteristics since the slanted lights highlight the curve of the leaves and produce fun shadow effects. Select the optimum lighting for highlighting plant life and tree trunks to set the perfect ambiance. 
Hang Festoon lights overhead:
Festoon lights strung overhead are among the easiest deck lighting ideas to use in your outdoor space. Drape them from two anchor points, such as the slats of a fence in a corner or tree branches. Utilize your outside power outlet if you have one. Otherwise, there are several solar- or battery-powered options available. Electricians in Loveland Colorado will help you in this regard!
Bring light with you to your destination with lighting installation:
The amount of light a handled hanging lantern will emit will amaze you. Nowadays, genuine gas versions are less prevalent, although solar-powered or candle variants are still accessible. Group them in trios and arrange them in the decking's corners for a fashionable effect. You can also set them on a dining table if you're dining outside.
Add a colored glow effect: 
Recessed lights are a terrific option for illuminating deck walkways, decorative deck railing ideas, and your way around the deck. They are generally accessible online and offline, but if you want to create a more distinctive style, you will need to dig a bit more. Get help from leading edge services!
Prepare your deck for winter for a cozy retreat:
Without including our favorite string lights, no compilation of deck lighting suggestions would be complete. They are just unbeatable for adding quick shine. Winter is the ideal season to hang some sparkling lights to give your room a mystical sense, and wall lights enhance the impact.
Your deck may feel like a cozy log cabin with the correct furniture and lighting arrangement. With a log burner, cozy modular couches covered in shaggy throws and fur, rustic accents, and, of course, those crucial string lights for the finishing touch, choose a lighting installation setup that works in an indoor-outdoor atmosphere.